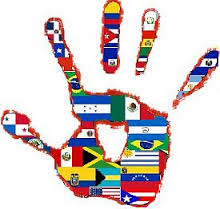 ¡Hola!
¡Bienvenidos a mi página de web! (Welcome to my webpage!)
My name is Allyson Vaughan! I am so excited to be a part of the Burke County Bear Family and I am excited to see what's in store for this year!
This will be my second year teaching, but I have been with Burke County as a student-teacher for a little less than two years. I graduated in December 2015 from Georgia Southern University with my Masters in Teaching (M.A.T.) degree in Spanish and I also hold a Bachelor's (B.A.) degree in Spanish as well as another Masters (M.A.) degree in Spanish. I love everything about the Spanish language and culture and I can't wait to teach your students everything I know and more!
I have been teaching the past 4 years through my Masters program from K-12 to the University level. Spanish is my 2nd language and I feel that is an advantage for me because I understand how frustrating it is to learn a language and I also know what your student may need so that the process is as painless as possible! I diligently work hard to find new and various ways to teach the students so that I can make learning efficient, yet fun! I want the students to be excited as I am to learn a new language and hopefully they will continue to explore the Spanish language and culture after they leave my classroom.
As a teacher, I have very high expectations but I am also very understanding and fair. I am not looking for perfection only positive outcomes. The only way to successfully pass this class is to have a positive attitude and give your best effort. The Spanish language can be confusing and hard to understand but with that positive mindset and my helping hand I can guide you through this course with ease. I always want to see my students succeed and I am always available to help and/or tutor after school.
I welcome all parents to contact me either through e-mail (avaughan@burke.k12.ga.us) or by calling the school's landline. I am always available to answer any questions and address any concerns about this course. I absolutely love it when a parent comes in for a conference and starts a conversation off with Spanish whether it be ¡Hola! ¿Como está Ud.? or if it's simply ¡Hola!
Please enjoy some pictures down below from my trips to Mexico and Costa Rica this past summer!
Tutoring Schedule:
Tuesdays 3:00pm - 4:00pm (Spanish II)
Wednesdays 3:00pm - 4:00pm (Spanish III/IV)
Mi 2017 - 2018 Horario:
Segundo Semestre:
1st Block - Spanish III/IV Honors
2nd Block - Spanish II
3rd Block - Spanish II
4th Block - Planning
GOOOOOO BEARS!